"Your elders will dream dreams,
your young people will see visions."
–Book of Joel, 3:1
This book began in prayer and grew as a labor of love. During one of his daily prayer sessions, Pope Francis received an inspiration: to shine a light on the vital role of grandparents and other elders. He began to preach frequently about the world's need to pay close attention to our elders and heed their wisdom.
Pope Francis had previously responded to children's questions in person and in the book Dear Pope Francis. In a new project, his focus turned to the grandparents, mothers, fathers, widows, widowers, and single individuals who have known decades of joy and sorrow, loss and change. Pope Francis views elders as reservoirs of wisdom and historical memory and believes their insights will offer future generations much-needed understanding and direction.
Loyola Press eagerly embraced the Pope's vision.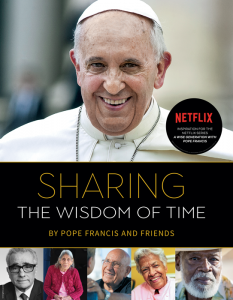 196. In the book Sharing the Wisdom of Time,[104]I expressed some thoughts in the form of questions. "What do I ask of the elders among whom I count myself? I call us to be memory keepers. We grandfathers and grandmothers need to form a choir. I envision elders as a permanent choir of a great spiritual sanctuary, where prayers of supplication and songs of praise support the larger community that works and struggles in the field of life".[105] It is a beautiful thing when "young men and maidens together, old men and children, praise the name of the Lord" (Ps 148:12-13).
197. What can we elderly persons give to the young? "We can remind today's young people, who have their own blend of heroic ambitions and insecurities, that a life without love is an arid life".[106] What can we tell them? "We can tell fearful young people that anxiety about the future can be overcome".[107] What can we teach them? "We can teach those young people, sometimes so focused on themselves, that there is more joy in giving than in receiving, and that love is not only shown in words, but also in actions".[108]
199. If we journey together, young and old, we can be firmly rooted in the present, and from here, revisit the past and look to the future. To revisit the past in order to learn from history and heal old wounds that at times still trouble us. To look to the future in order to nourish our enthusiasm, cause dreams to emerge, awaken prophecies and enable hope to blossom. Together, we can learn from one another, warm hearts, inspire minds with the light of the Gospel, and lend new strength to our hands.
—Excerpted from Christus Vivit by Pope Francis
Partners & Acknowledgements
A project of this magnitude involved the help of many hands. We are forever indebted to the global team who helped us gather the stories and images that make up Sharing the Wisdom of Time.
That includes Unbound, a nonprofit sponsorship organization, who dove into this project with reverence and generosity and who were, quite literally, a godsend: Andrew Kling, Loretta Kline, Liz Espino Reynoso, Larry Livingston, Dora Tiznado, Gabrelle Wise, Gina Paola Moreno, Alley Stonestreet, Xander Jobe, Mary Geisz, Jordan Kimbrell, Maureen Lunn, Claudia Vázquez-Puebla, Joe Sundermeyer, Scott Wasserman, Regina Mburu, Tristan John Cabrera, Daniel Perez, Diamond Dixon, and the rest of the staff of Unbound, as well as their team in Colombia, Henry Flores and Mónica María Gómez Arias, who created an incredible immersion experience for Loyola Press staff members. Thank you, Elizabeth Hughes, for referring us to Unbound and for your support of this project. Our Jesuit publishing partners were also instrumental: Anja Celarec, Pat Coyle, Fr. Daniel Stevens, SJ, Juan Bernardo Ordoñez, Paulo Moregola, Milene Albergaria, Fr. Jerry Sequeira, SJ, Endang T. Lestari, Olaf Pietek, Edyta Drozdowska, Ramón Alfonso Diez, Tony Homsy, SJ, Stéphane Dupuis, Jean Hanotte, and Charles Delhez, SJ. A special thanks also to our early partners, Eddie Siebert, SJ, and Loyola Productions Inc. and Little Brothers – Friends of the Elderly.